HOURGLASS
Hourglass is a multi-generational endeavor for the Smith family.  The original four acre Lodi Lane property, which Jeff Smith began to oversee in 1990 and nurtured into the world-class Hourglass Estate Vineyard, has been in his family since 1976.
Hourglass has evolved from a single vineyard Cabernet Sauvignon label with no winery into an estate-designated wine brand comprised of two estate vineyards (the original Hourglass Estate and the Blueline Estate) complete with its own winery.  The Hourglass Estate Vineyard will remain 100 percent Cabernet Sauvignon while the Hourglass Blueline Estate Vineyard is planted to Cabernet Sauvignon, Cabernet Franc, Merlot and new plantings of Petit Verdot and Malbec.
Jeff Smith had the unique experience of growing up around the dinner tables of many prominent wine families who transformed Napa Valley into a world class wine growing region.  With this unique vantage point, he noticed a paradigm shift in the early '90s toward small terroir driven estate wines… wines truly defined by their place.  He took a small four acre family vineyard in St. Helena, replanted it to Cabernet, enlisted the help of winemaker friend Bob Foley, and launched Hourglass.  From the inaugural 1997 release, the Hourglass estate bottling has evolved into one of Napa's most esteemed Cabernets.  In 2006, with the help of two partners, Mr. Smith procured the Blueline estate in the Calistoga appellation with the goal of finding a new vineyard site that could dovetail with the Hourglass estate.  Since 2006 Mr. Smith has gone about building a winery at Blueline to house the Hourglass production and crafted a series of vineyard designated wines (Cabernet, Cab Franc, and Merlot) under the Hourglass label that are a reflection of their unique vineyard sites.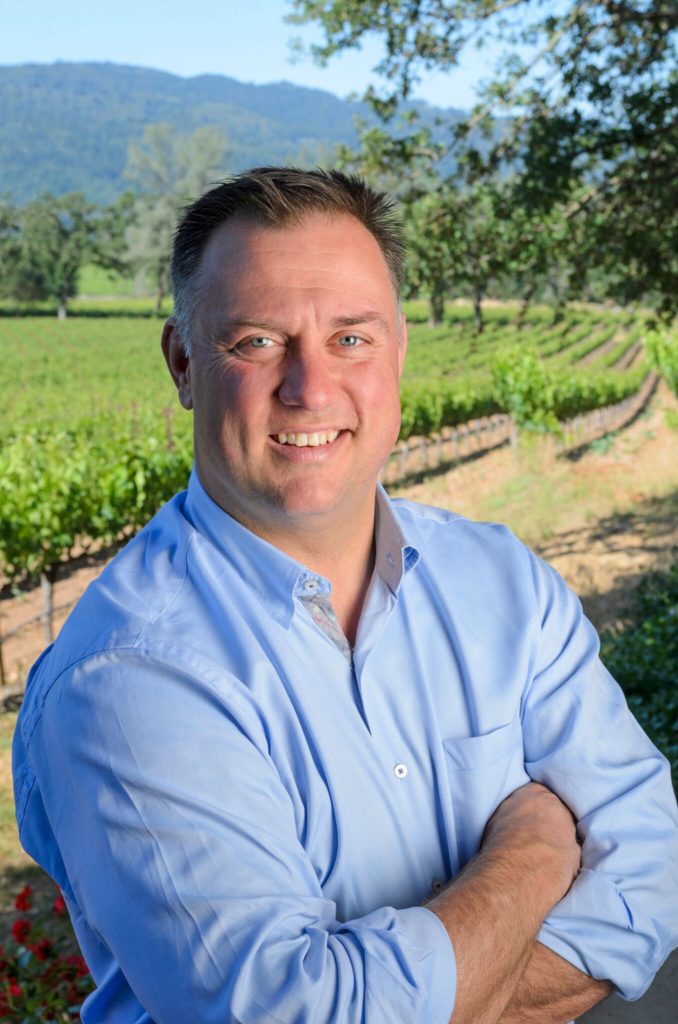 TONY BIAGI

Winemaker

San Mateo native Tony Biagi is a fourth generation Californian, whose first experience with wine was watching his father make modest amounts of a private label wine from a family friend's vineyard in Lodi, CA.
After graduating from high school with an aptitude for science, Biagi enrolled at U.C. Davis without any preconceived plans to study winemaking. "I went into college as a freshman wanting to be a marine biologist, but I wound up majoring in fermentation science, specializing in winemaking."
In the mid-1990s, Tony worked at a retail wine shop in St. Helena. During that time, Tony witnessed a renaissance for Napa Valley Cabernet Sauvignon as phylloxera-crippled vineyards were re-planted and the next generation of star estates emerged.
During the same time, Tony bolstered his practical oenology experience working at Duckhorn Vineyards under the esteemed Tom Rinaldi. After starting at Duckhorn as an oenologist in 1995, Biagi was named assistant winemaker and subsequently was appointed head winemaker for Duckhorn's Paraduxx label in 1998.
In 2001, Biagi left Duckhorn to become the general manager and winemaker at Napa Valley's Neal Family Vineyards, where he worked through the 2002 harvest.
In March of 2003, Tony joined the PlumpJack Group as winemaker for the company's PlumpJack estate winery in Napa Valley, and was later also named winemaker for the group's second winery when CADE was founded on Howell Mountain in 2005. Tony's wines have achieved extraordinary marks from the
world's top critics, with two of his PlumpJack wines earning 99 and 98 points respectively from Robert Parker, and another wine from CADE earning 98 points from Parker in only its second vintage.
Tony joined Hourglass in 2012, after developing a friendship and professional respect for proprietor Jeff Smith's philosophy and collaborative style. At Hourglass, Biagi saw the new position as hands on opportunity to make estate-bottled wines from two of Napa's most extraordinary parcels of land.
"Now, more than ever, in Napa Valley as well as California, estate properties that control every aspect of their fruit production are going to be most successful," said Biagi. "What really intrigued me about making wine from the Hourglass and Blueline estate vineyards is that the possibilities are endless. It's really a dream come true for me to be able to craft wines from such spectacular sites."
When he's not in the cellar, Tony enjoys cycling, gardening, and spending time with his daughter, Harper Alexis.
HOURGLASS AT NAPA GALA VI
At the Quail Napa Gala VI, Tony will be presenting three reds from the much celebrated 2015 vintage.  All of these wines are extremely rare.  We've invited Hourglass to attend every single Napa Gala – and for good reason.  The wines are delicious!  Always one of the more popular tables!!